ECC Selected for National Project Vision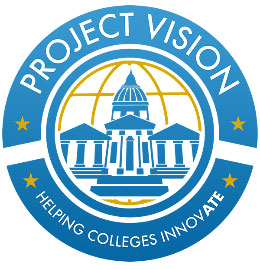 Edgecombe Community College is one of thirteen two-year colleges from across the nation selected for Project Vision, a grant-focused initiative supported by the National Science Foundation (NSF).
The goal of the five-year project is to help smaller, rural two-year colleges create opportunities to seek funding for NSF grants. In addition to focusing on smaller, rural schools, the project also targets colleges with newer presidents. ECC President Dr. Greg McLeod joined the college in 2018.
Edgecombe Community College is the only North Carolina college selected to participate in this Project Vision cohort.
"We are excited about collaborating with Project Vision to expand our capacity in STEM workforce development and to develop creative ideas that can be aligned to NSF funding opportunities," says Sheila Hoskins, executive director of student success and institutional effectiveness at ECC. Hoskins was instrumental in the Project Vision application process.
Project Vision teams will help ECC faculty generate innovative ideas and STEM grant proposals. The teams also will offer support to all college stakeholders, from trustees, the president, and administrators to faculty and staff. In addition, Project Vision will provide professional development activities for all of these groups.
"While we are proud and honored to help meet the educational and training needs of the communities we serve, we know that we have the potential to be and do so much more," observes Dr. McLeod.
"I truly believe that the mentoring and support we will gain through our participation in Project Vision will help us unlock the great potential within us and enable us to better serve our students and community," he adds.
In addition to helping ECC discover and match innovative ideas with NSF funding opportunities through a mentor team, the college will receive a $6,000 stipend to support faculty involvement and momentum on the project.
In addition, the college can connect to Project Vision's large network and will have access to the NSF Advanced Technological Education Principal Investigators conference.