Purchase 2023 Fall textbooks online with financial aid beginning August 7!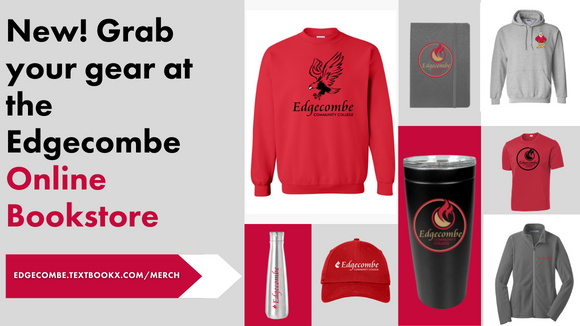 Online Bookstore
The Edgecombe Online Bookstore operates completely online and can be visited at edgecombe.textbookx.com. Students can visit the website to order online and have their textbooks shipped to their home or to campus while digital course material access is emailed. The bookstore also sells course supplies and other items.
The Online Bookstore offers
Quick ordering process – complete your entire order in 5 minutes
New, used, eBook, & rental textbook formats
An average savings of 60% off list price on marketplace items
Price match guarantee on new books
Free shipping on retail orders over $49 (not including marketplace)
Option to post and sell any textbook on the website's marketplace – you name the price
Ability to pay for textbooks with approved financial aid
School spirit merchandise like clothing, hats, and more!
Year-round Customer Experience with 24/7 availability at the start of every major term
Visit the website and order online at edgecombe.textbookx.com.
All courses, required materials, and pricing options are displayed in a personalized, easy-to-use page when you log in with your student account.

Order early to take advantage of great savings opportunities and free delivery options.
Need Help?
Contact the Bookstore's Customer Experience team.
Faculty Resources
Faculty members use the convenient web portal to submit their course materials in advance of each semester. Using this portal, faculty view the courses they will be teaching, select the materials they want to use, and see what costs would be for students. The portal also has an option to create coursepacks.
Campus Store
In addition to the textbooks online, the Tarboro and Rocky Mount Campus Stores are open to serve you. Please visit the campus stores where you can:
Receive your shipment for textbooks ordered online.
Get assistance with questions regarding the online textbook order process.
Purchase kits for cosmetology, barbering, and biology using your student financial aid, cash, or credit card.
Purchase school supplies i.e. book bags, pens, pencils, etc., also using your student financial aid, cash, or credit card.