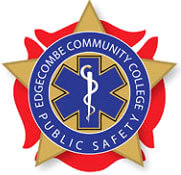 The Fire and Rescue program at ECC is designed to provide career and volunteer fire and rescue departments with the opportunity to develop knowledge, practical skills, and certification in modern firefighting, rescue, officer development, and fire department management skills. Programs are open to all fire and rescue departments in North Carolina.
A broad range of specialty classes, based on both department needs and new training standards, are offered during the year on the college campus or at various fire departments. Fire and rescue classes that require physical exertion and use specialized departmental equipment are offered to credentialed fire and rescue service personnel only. See the monthly Fire and Rescue Training Course Calendar.
Steps to Register
Please complete and return the Public Safety Agency Affiliation Form to Edgecombe Community College prior to the start of your course. See the Tuition and Registration Fee Waiver Guide if you are unsure if you qualify for fee waiver status.
Available courses include but are not limited to:
Firefighter Certification
(Includes Skill Assessment & Written Test)
Basic Fire Fighter Training
(Non-Certified, no written test)
Live Fire Burns
(Both Structural and LP Gas)
Technical Rescuer
National Incident Management System
Incident Command
Rapid Intervention
Special Rescue Operations
Rescue Technician
Wildland Fire Management & Safety
Hazardous Materials Awareness and Operational Level
Terrorism / Weapons of Mass Destruction
Land Search Rescue
Arson Detection
Emergency Vehicle Driving
Clandestine Drug Lab Awareness
Water Rescue
Emergency Medical Responder / CPR / Basic First Aid
NC Fire Incident Reporting System / Computer Basics
Extrication
High Level Rescue
Confined Space/Trench Rescue
Spanish for Fire Service
A wide variety of Fire Service Refresher Programs based on need and departmental request
Contact
Adam Culbertson
Fire and EMS Coordinator
culbertsona@edgecombe.edu
Office 320, Lamm Building, Rocky Mount Campus
(252) 618-6616
Some programs at Edgecombe Community College lead to a license and/or certification in North Carolina. Beginning July 1, 2020, the U.S. Department of Education regulations require disclosures for all programs leading to a license or certification. Disclosures will be provided for all states and will indicate whether the program meets licensure requirements, does not meet licensure requirements or has not yet been determined for each state.